The Bare Essentials
How about a game of Barefoot Bowls with your next office party, birthday or social function! Whether you're a first-timer or a barefoot regular, it's easy to organise, lots of fun and an inexpensive way to learn to play. Some basic instruction is provided, as well as the low-down on some of the do's and don'ts. Bookings are essential and can be made by calling Bruce Turton on 0458 756 557, call Phoebe Kite on 0452 552 062, or email camdenbarefootbowls@gmail.com.
Bowling Club Membership
Ordinary full membership of the Camden Mens Bowling Club is currently $145 per annum and includes your membership of the Royal NSW Bowling Association, a pre-requisite to play in organised events in NSW. Junior membership is $70 pa . A small "green fee" is payable when participating in any organised games. Fees are subject to change from time to time.
As a member of CMBC you may play in tournaments and other games held at other bowling clubs in NSW. You will need suitable flat-soled shoes, and a club uniform is required for all games unless stated otherwise. At some point you will need your own set of lawn bowls. Click here for a list of bowls and bowlswear suppliers in New South Wales.
Social Bowls
Organised social games are held on Tuesdays (mufti), Thursday afternoons (mufti) and Saturday afternoons ("creams" or club uniform unless stated otherwise).
Junior Bowls Academy
Juniors (aged from 10 to 18) are sought, both male and female, who would like to participate in a programme to learn the game of Lawn Bowls. The programme is aimed to provide juniors with an alternative to contact sports and those who show potential may go on to play District, Zone and State Bowls Championships for Schools and Bowls Australia.
Coaching is held on Tuesday afternoons and continues for approximately 1.5 hours, commencing at 3.30 pm. If the junior does not have Bowls shoes, barefeet/thongs are appropriate. All equipment including bowls will be provided for all coaching sessions and no fees are applicable. If, after coaching you wish to take up Lawn Bowls and join Camden Bowling Club, free Junior Membership will be provided. Also ongoing coaching and Club shirts will be provided.
Should you wish to join the coaching academy squad, please contact the Club or Alex Matheson (Junior Development Officer) on Ph: 02 4658 1520 or Mob: 0409 306 256. Click here for more information.
Competitive Bowling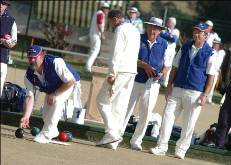 Club Championships are held annually and include various Singles, Pairs, Triples and Fours games played against other members of CMBC.
Pennants are a series of approximately 10 games played each year against other clubs in NSW Zone 5. There are several grades of Pennants and members are selected to play by the club's Selectors. Winners of Club Championships and Pennants have the opportunity to progress to higher levels of competition.
From time to time, many Bowling Clubs hold organised tournaments which are widely advertised. Check the Notice Board in the Bowls Office for current tournament details or visit www.mybowlsclubs.com.au for details of tournaments across the country.
Coaching
It is club policy that all new bowlers attend coaching lessons prior to participating in any social or competitive games. Coaching is also available to all Members wishing to improve their game. To arrange a coaching lesson, free of charge, please contact one of the following accredited coaches.
John Bugden
(Coach)
Dave Price
(Coach)
Graham Cowell
(Coach)
Steve Laker
(Coach)
Alex Matheson
(Coach)
Wayne Pacey
(Coach)