A brief history of the Camden Bowling Club
Like most bowling clubs in New South Wales the foundation of the Camden Bowling Club was never smooth sailing. The foundation members had to fight tooth and nail against council bureaucrats, war rationing and the harsh elements to succeed to establish the club and greens. It was the foundation members' persistence and unflinching resolve that enabled them to achieve their goals.

The first Clubhouse, 1942
On Thursday, 20 July 1939, 23 potential bowlers, chaired by Mr J.L. Hogg, discussed what the prerequisite were to form and build a bowling club. The meeting set an annual subscription of £2.20 and decided to ask the Camden Municipal Council for sufficient ground in Onslow Park to lay down a bowling green. On 11th October 1939, after endless meetings and discussions, an area in the south-west corner of the showground was finally granted. However, the first stage was to clear several large pine-nut trees, large acorn trees, divert a large open drain and a stock route (not to mention the itinerant gypsies who camped there).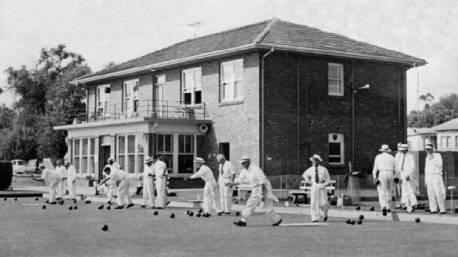 The new Clubhouse, 1954
Unfortunately, the adverse weather condition proved more difficult than the foundation members had expected. Not only did they contend with droughts, but also the 1939 floods were horrendous. The endless working-bees had to reseed and top-dress the green more than once. Just when the green seemed to be progressing well the couch grass was over manured and consequently burnt the grass roots and because of water restrictions, the green had to be hand watered.
On Saturday 3rd of May 1941, the green finally opened for play. During this period games were played against, Campbelltown, Bowral and Picton. In 1942, the old clubhouse was built. In 1950 number 2 green and later number 3 green were finished. Because of the popularity and growing number of players, the existing building was built and officially opened on 7th November 1954. Further greens were needed and number 4 green, with clubhouse, was opened in 1960 (now RSL site).


Camden Sports Club, 2010
The Camden Ladies Bowling Club was formed in 1960 and in 1961 was allowed to use the number 4 green and clubhouse.
An L-shaped lounge was added in 1964, to allow for the admission of ladies into the clubhouse. The main bar was for men only. On special occasions ladies were admitted into the main Clubhouse. In 1970, the building was extended about 10 metres on the number 3 green side.